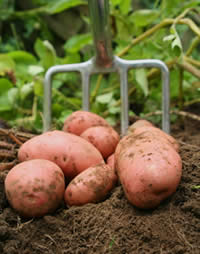 For the budding home gardener and those enthusiasts wishing to grow their own potatoes, we supply a range of quality approved Class 1 Certified Seed potatoes. The British Seed Potato Certification, Schemes aim to provide assurance that seed potatoes delivered to buyers and growers meet specified minimum health and quality standards.
Whether you're looking for first earlies, second earlies, or main crop potatoes, we have several varieties to choose from. Harvesting will generally depend on variety but as a rule the following timeframes apply:
First earlies: 10-12 weeks after planting
Second earlies: 13-15 weeks after planting
Main crop: 15-20 weeks after planting
Contact us
to discuss the seed varieties we have available to order.